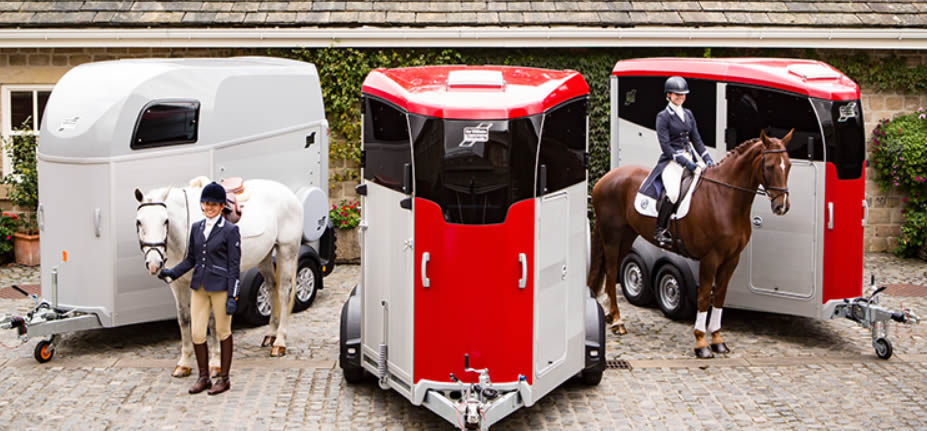 New Ifor Williams HBX & HBE For Sale and Available To View Now

Stock of HBX506 & HBX511 horse trailers now been delivered, call us now and secure yours!
The body of the flagship HBX trailer is constructed of aluminium which makes it stronger, very lightweight and hence easier to tow. It will apparently host lots of new features including the ability to add an awning for either day use or overnight night sleeping (this must be the first of it's kind and a real innovation). The HBX price is available on 01772 600395
The HBE is aimed at the European market and doesn't have a front window or front unload ramp as is standard practice in Europe. Also, instead of having opening doors above the rear ramp the HBE makes use of a roller blind which is ventilated with a breathable fabric. The HBE horse trailer is also lighter than the HBX trailer and can carry up to 2 tonnes.

Both ranges have been subjected to the usual rigorous testing that Ifor Williams put their trailers through.
For further information please see the Ifor Willaims Brochures & Price Lists

Check our current stock availability

Here are some of the new features of the HBX range:
- Sleek aerodynamic style which incorporates the concept of the floating roof with glazing and black aluminium and tinted glass panels all the way around
- Lower roof in the front for a more aerodynamic effect
- Choice of a built in tack locker as an alternative to the left hand front ramp.
- Opening new tinted windows on the top of the front doors enabling a cross flow of air through (they can also be left slightly ajar). The front of the horsebox also has a window.
- 2 way rear ramp as standard which can come down as a conventional ramp but can also open as a door enabling loading of the trailer with the use of a forklift truck for hay or transporting feed.
- Optional padding inside of the trailer is available
- Optional padded breech and breast bars are available with 4 settings instead of the usual 2 for their height (normal breeching / breast bars are included as standard)
- Awning rail fitted as standard on the side of the trailer to allow an optional inflatable awning made by a leading inflatable awning company. This can be erected in minutes.
- Galvanised chassis
The range of trailers available is the same as the HB range trailers presently available i.e. from single horsebox trailers to the largest double horse trailer

For more information, price, sizes and specifications click on the links below: