Fitting Instructions Ifor Williams Horse Trailer Haynet Rail Kit
Instructions for fitting KX0840 and KX0841 haynet rail above the inspection door


View/download the haynet rail fitting guide
Fitting the Haynet rail above the inspection door.
1. Remove the top corner fixings to the plywood side panel.
2. Drill out top corner fixing holes to 8.5mm diameter.
3. Fix the rail in place using the M8 silver button socket head bolt on the outside and the nyloc nut inside the slot of the rail. This is a two man operation and long nose pillars are required to hold the nut when starting the thread.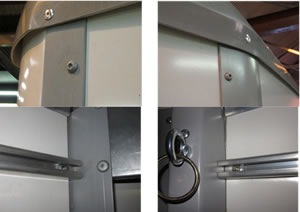 Fitting the sliding nuts.
1. Place the sliding nut through the rail slot.
2. Flip the sliding nut so the threaded hole is in line with the slot using something like a couple of small screwdrivers.
3. Place the split spring washer on the eye bolt followed by the plain washer
4. Screw the eyebolt on to sliding nut in the rail.
5. Lightly tighten hand tight leaving the eyelet in a near the vertical position.

Instructions for fitting KX0842 and KX0843
1. As Above
2. See Below
Fitting the Haynet Rail above the front ramp. (2008 to Sept 2010 trailers only)

1. Locate the bottom angle brackets as shown and drill 17/64" (6.75mm) holes using the groove as a drill centre guide.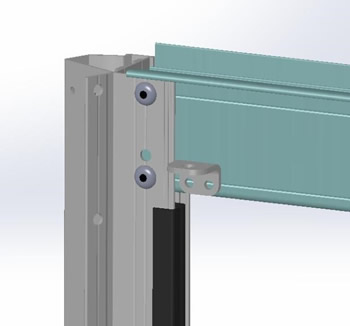 2. Rivet on the two bottom brackets .
3. Place and position the haynet rail on top of the bottom brackets.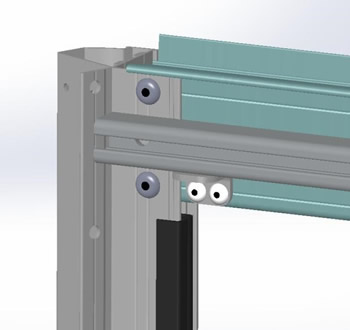 4. Mark and drill an 8mm hole all the way through the haynet rail so the top & bottom angle brackets can be bolted on.
5. Place the top angle brackets on top and drill rivet holes to suit.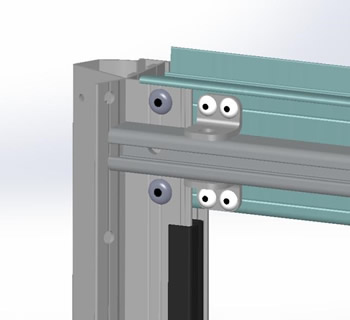 6. Rivet the top brackets on.
7. Bolt the haynet net in place