Self Drive Horsebox Hire Available in the North West:
Use our Online Booking system to book or enquire about your hire
We now have Equi-Trek horseboxes for hire on our hire fleet, the 3.5 tonne Sonic, the 4.0t Super Sonic, the 4.5 tonne Victory and the Equi-Trek 7.5t Endeavour with living area, available for short and long term rental. The Equi-Trek Sonic is easy to drive and due to it's maximum weight of 3500kg can be driven on a standard car licence, it has no living area but there is a tack/changing room separate from the horses which incorporates 2 saddle racks, 2 bridle racks and 2 coat hooks and there is additional storage space above the cab.
The 4.5 tonne Equi-Trek Victory has a lockable external tack locker which is complete with a light and includes 2 bridle racks and 2 saddle racks. The living area is totally separate from the horse area with a lockable door with opening window. It incorporates comfortable seating that converts into either a double bed or two bunks. There is a nice kitchen which comes complete with gas hob, sink, table and cupboards. There is also a toilet compartment which contains a toilet, coat hooks and a mirror.
The 7.5 tonne Equi-Trek Endeavour has 2750kg carrying capacity and is the most practical and outstanding 7.5t horsebox available. With its fantastic carrying capacity it can legally carry up to 3 horses or 4 ponies depending on their size. The living accommodation is luxurious with kitchen and living area, flushing toilet, shower cubicle and wash basin. the overhead cab has a double bed and the L shaped seating in the lounge converts into another double bed.
The Equi-Trek Victory and Endeavour require you to have a licence entitling you to drive up to 7.5 tonnes so you will require C1 on your driving licence, anyone passing their test after 1st Jan 1997 did not automatically receive this entitlement.
*Please make sure you check the hiring restrictions and what you will need below.
Equi-Trek 3.5t Sonic Horsebox
Gross Weight 3500kg
Unladen Weight 2420kg
Internal Height 2.3m
Internal Width 2.04
Body Length 6.15m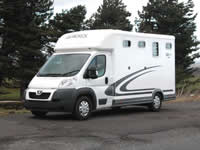 Equi-Trek 3.5t Equinox Horsebox
Gross Weight 3500kg
Unladen Weight 2440kg
Internal Height 2.92m
Internal Width 2.127m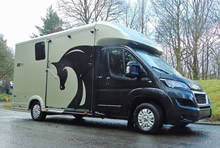 Equi-Trek 4.5t Victory Horsebox with Living
Gross Weight 4500kg
Unladen Weight 2900kg
Internal Height 2.31m
Internal width 2.1m
Body Length 7.27m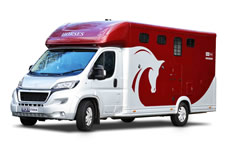 Equi-Trek 4.5t Victory 5 Horsebox with Living
Gross Weight 4500kg
Unladen Weight 3100kg
Internal Height 2.285m
Internal width 2.22m
Body Length 8.00m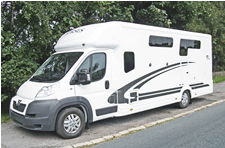 Hire Rates:
No Days Hire

Equi-Trek 3.5t
Sonic

Equi-Trek
Equinox

Equi-Trek 4.5t Victory /
Victory 5

All Prices Include VAT, Insurance & Roadside Equine Assistance

1 Day

£99.00

£99

Minimum 2 Day Hire

2 Days

£180.00

£180.00

£250.00

3 Days

£240.00

£240.00

£350.00

4 Days

£300.00

£300.00

£400.00

5 Days

£350.00

£350.00

£450.00

6 Days

£400.00

£400.00

£500.00

1 Wk

£350.00

£350.00

£550.00

Weekend

£190.00

£190.00
Additional drivers can be authorised at a cost of 10.00 per day but must have a valid driving licence and the same terms and conditions apply as for the main driver
A 50% deposit by debit or credit card will be taken from the hirer upon booking, the remainder must be paid using the same card on collection of your hire vehicle. Deposits are non refundable. The vehicle will have a full tank of fuel and a £100 cash deposit will be required on collection. If the vehicle is returned full the £100 deposit will be returned to you
*Hirer Restrictions:
We are unable to let out on hire or to be driven by:-
1. Hirers under the age of 25 or over the age of 75 years of age
2. Hirers who do not have a full valid UK or EU driving licence or one that has been held for less than 2yrs
3.Persons who have been convicted of an offence in connection with the driving of a motor vehicle or motorcycle and/or have had their driving licence endorsed or suspended or more than 6 penalty points imposed. ("Spent" convictions, covered by the Rehabilitation of Offenders Act 1974 may be disregarded)
4. Persons who have had their insurance declined and/or renewal refused and/or special insurance terms imposed as a result of a claims experience and/or have had their insurance or cover cancelled by any Motor Insurer
5. Persons engaged wholly or partly in professional entertainment or professional sports persons.
6. Jockeys and persons connected with racing, gaming industry or press of any sort.
7. Persons who, whilst driving have been involved in more than one accident during the past 3 yrs.

*Here is what you will need:
Driving Licence
Utility Bill (dated within last 60 days, same name as licence)
Credit/Debit card (Same name as licence)
As the driving licence counterpart is now obsolete you will also need to provide us with a DVLA Check Code as we have to prove to the insurance you do not have 6 or more points on your licence otherwise you will not be insured.

By using the link below you can access the DVLA website.
You will need to have to hand,
- Your driving licence
- National Insurance Number
- Post Code.
DVLA Check Code Website - https://www.gov.uk/view-driving-licence
Please be aware, the DVLA check code is only valid for 48 hours!
You must bring all the above with you including a print off of the check code. A smart phone screen shot is acceptable.
It is your responsibility to ensure that,
- You meet all the above requirements
- You have the correct driving entitlements.
Failure to produce will result in a refusal of hire! Your 50% Deposit is NONE refundable!
Prices advertised include insurance and VAT, however there is a 1000 excess payable for damage which can be waived by paying a Collision Damage Waiver of £10 per day.
HORSEBOX HIRE TERMS AND CONDITIONS
Please visit our hire terms and conditions page.
LONG TERM HORSEBOX HIRE
Barlow Trailers offers special long term horsebox hire rates which are available upon request. Please contact our hire office for more information.
Click here to email the Barlow Trailers Sales Department or call us on 01772 600395