Ifor Williams P5e Unbraked Trailer with Tailboard
5' Long x 3' 4.5" Wide, Gross Weight 500kg, 145/80 B10 Flotation Tyres.
Internal Dimensions: 1025mm Width x 1525mm Length x 445mm Depth
For more information on sizes, specifications or prices click on the links below:
Ifor Williams Unbraked Trailer Brochure
Ifor Williams Unbraked Trailer Price List
Please call us on 01772 600395 to discuss any optional extras required and for any special offers available.
The P5e is the smallest trailer in the unbraked trailer range. It is a small but very convenient and compact trailer which is aimed at the domestic user, although the P5e maintains the structural integrity associated with all Ifor Williams Trailers.
The P5e offers excellent strength to weight ratio with a maximum gross weight of 500kg. As the narrowest trailer in the unbraked range, the P5e can be towed with ease and its deep sides ensure load volume is not compromised.
The P5e is ideal for transporting heavy and awkward loads that your car can't quite manage. From transporting chippings, sand and gravel, to plants, furniture and domestic appliances, without forgetting the regular trips to the skip, the P5e is an ideal small trailer that can be towed by most domestic cars.
The P5e is available with a ramp or tailboard as standard. The tailboard version has a GRP lockable hinged lid available as an accessory which turns it into an ideal camping trailer
Optional Extras
Ladder rack
Front & Rear Prop Stands
Weldmesh Side Extensions
Jockey Wheel
Aluminium Treadplate Floor Covering
Lashing Rings
Light Guards
Tarpaulin Cover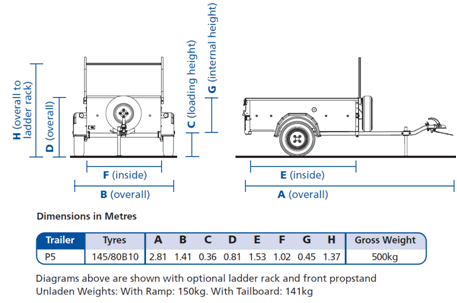 ---
Note
The P5e is an unbraked trailer and as such should be used with regard to the Road Vehicles (Construction & Use) regulations 1986, which state that the towing vehicle must have a kerbside weight of at least twice the gross weight of the trailer. Therefore, for example, the maximum gross weight of 500kg will only apply if the kerbside weight of your towing vehicle as stated in the manufacturer's handbook is greater than 1000kg. If the kerbside weight is less than this figure, the maximum gross weight of the trailer must be reduced accordingly. The vehicle manufacturer may further restrict this figure by stating a maximum weight of unbraked trailer which may be towed, this must also be taken into account.
Weight
Unladen Weight
140kg
Gross Weight
500kg
Axles
Axle Type
Single
Wheel & Tyres
Size
145/80 B10
Dimensions
Internal Length
1.53m
Internal Width
1.02m
Overall Length
2.56m
Overall Width
1.41m
Ifor Williams P5e Trailer with Tailboard
---