Ifor Williams Business Inabox Exhibition Trailer
Looking for an Exhibition Unit then why not have a look at the new Ifor Williams Business Inabox trailer. These can be designed to the specification you require. We can build a tailor made mobile Exhibition Unit that effectively conveys your company's message directly to your customer.
An Exhibition trailer unit can be used for a variety of purposes from promoting and selling goods or serices to raising public awareness, fundraising and recruiting.
Ifor Williams designers will work with you to produce a practical and eye catching design which is both durable and functional.
The Exhibition Unit trailer can be wrapped by our wrapping technicians to give your trailer a professional and modern look that fits with your business branding
A typical Exhibition Trailer Layout

Click layout for larger image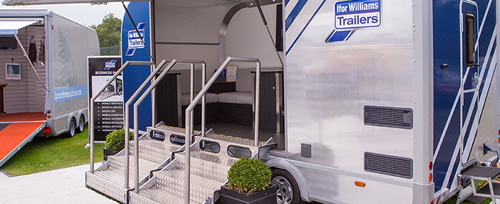 THIS TRAILER IS AN ORDER ONLY ITEM AS IT WILL BE DESIGNED DIFFERENTLY FOR EACH CUSTOMER, PLEASE CALL 01772 600395 FOR FURTHER DETAILS