Ifor Williams Coupling Head Hitch Lock.
This hitch lock comes with 4 keys and a spare barrel which can replace the existing one on the coupling head, it then enables the same key to be used to open both the lock on the coupling head and the lock on the hitch lock
The lock is designed to fit 50mm ball couplings fitted with the Avonride head and will suit most braked trailers in the Ifor Williams range (the only exceptions are the CT115, CT136 and Eurolight trailers).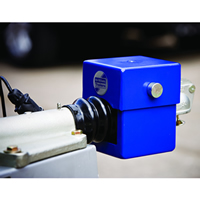 The coupling head security lock has been designed and manufactured to resist attack and uses toughened steel and high security barrel lock mechanisms.

In rigorous security testing, the lock has been awarded Gold Standard by Sold Secure - a major UK test house.

The coupling head lock is plated all over and in addition the upper section is powder coated.

The internal elements of the lock are made from non-rusting materials. A convenient weather-proof cover is also provided which covers the whole lock to give additional protection.

A spare barrel lock is supplied giving the option of replacing the lock on the coupling head of the trailer enabling the use of the same key to open both locks.