Bulldog QD44 Wheel Clamp - to suit 14" & 15" Alloy & steel wheels. 165, 175, 185, 195/70 x 14" wheels and 195/70, 205/65 x 15" wheels on caravans and trailers.
PLEASE CHECK YOUR WHEEL SIZE ON YOUR TRAILER MATCHES ABOVE BEFORE ORDERING AS WHEEL SIZES CAN VARY
These clamps are for trailers and may not be suitable for caravans/motorhomes please check the link below for the wheel camp chart
Not your wheel size?
Check the Bulldog Wheel Clamp Size Chart for other wheel sizes
Approvals: Sold Secure Silver, Auto Express Best Buy & Insurance approved.
Product Details:
Dual purpose clamp ideal for towing and storage.
Fitted in seconds without the use of the key.
High security drill and pick resistant lock.
Lower arms case hardened.
Large disk protects wheel nuts.
Compact easily stored in the front locker.
Insurance approved.
Sold Secure Silver approval.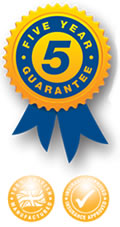 Downloads:
Fitting Instructions
Data Sheet
Magazine reviews-

Practical Caravan Best Buy.
"The QD is light and easy to fit which makes it ideal for touring. In fact the QD is a cinch to fit thanks to clear instructions and few moving parts."

Auto Express Best Buy.
"The large centre section protected the wheel nuts and separate plates in the legs jammed the device against the tyre to prevent it being prised off. It was hardened in all the right places particularly the lock and could not be defeated quickly or quietly."

Caravan Club Magazine-
"Bulldog s QD comes supplied in just three parts and its easy to assemble. It s a quality piece of kit that's been well designed with a good quality Chubb style lock. It s less bulky than the Milenco Clamps too."