Transporta Donated For Expedition: Leicester Roman Wall 17th - 24th June 2017
On the above dates, Leicestershire-based conservationist David Murray embarked upon an expedition along the Line of Leicester's Roman Wall, walking on 5 consecutive days in Leicester's heart with two specially trained Fell pack ponies, Lucy and Elsa. Lucy, the older pony, lives within a small herd at Lutterworth, Leicestershire. Elsa, who is only three years old, is wild and from near Shap, in the Lake District National Park. This expedition, which took 8 months to plan, was carried out in collaboration with Leicester City Council.
David and the ponies camped within the car park of Leicester's Jewry Wall Museum. Approximately 300 children, aged mostly between 8 and 10, and their teachers, all from Leicester primary schools, met Lucy and Elsa during special presentations either at the museum or at Jubilee Square. Every child stroked a pony. David is helping to save this breed from extinction in its native, northern England, home. The breed is valuable because it helps to conserve wild plant and animal species.
Despite Leicester traffic – and the expedition's extreme air temperatures – David and the ponies, aided each day by two road marshals and by one of two colleagues, completed the expedition safely.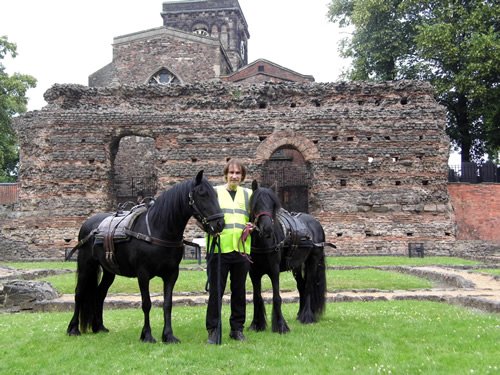 David is extremely grateful for the support he received from BARLOW TRAILERS LTD, without whose help this expedition would not have taken place. BARLOW TRAILERS came to the rescue providing an excellent, state-of-art transporter to allow the ferrying of Elsa safely from her home, within the Lake District national Park, to the pre-expedition training base, at Lutterworth, Leicestershire. Elsa had a trouble-free journey – she slept for much of the time, evidenced by the on-board camera – which helped to ensure her continuing excellent health prior to expedition start.
Post expedition, BARLOW TRAILERS again provided transportation for Elsa, allowing her to return safely to her Lake District home, where she is now happily grazing. Both ponies, walking with packsaddles – British Army and Roman – and without shoes throughout, ended the expedition in perfect, supreme physical and mental condition, confirmed by examination upon the expedition's conclusion. This, David believes, was partly due to BARLOW TRAILERS' assistance.
During the Leicester expedition, historical and archaeological links between Leicester's Roman Wall, Hadrian's Wall and Fell ponies were emphasised. 'Walking with Houyhnhnms', published in May 2017, describes David's previous expedition, along the line of Hadrian's Wall with Fell pack ponies. Follow, through this book's narrative, the exploits of three previously free-living ponies during a coast-to-coast adventure. Discover why Britain's remaining marginally wild equine herds are facing extinction in their naturalhabitats, and how we might protect them. Explore informally, during rendezvous with diverse experts, inspiring facets of a landscape partially shaped by the ancestors of Britain's modern-day native houyhnhnms.
In 'Walking with Houyhnhnms', the author, with contributions from more than 100 children met en route and from 12 Leicestershire teenage artists, describes, through the eyes of the ponies, an expedition not attempted previously in the modern era. This factually accurate travelogue, told in a unique fictional style, is a story of friendship and perseverance. Should we redefine the term 'biodiversity', in recognition of a view that places humans at the periphery of world ecosystems?