New Ifor Williams Transporta Proves Popular On Our Hire Fleet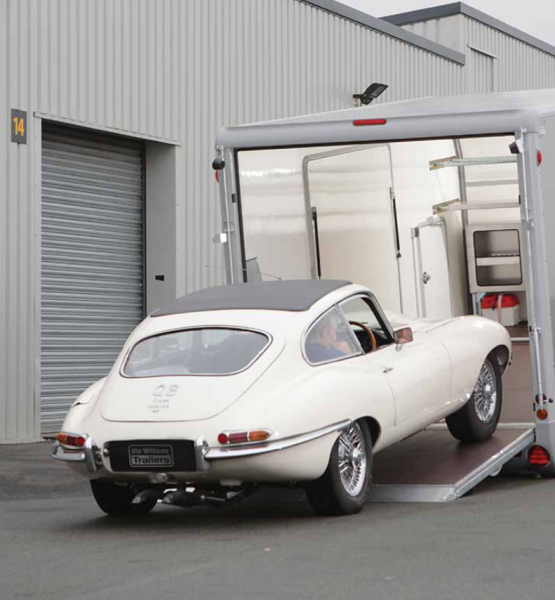 The Transporta enclosed car transporter trailer is an excellent trailer for transporting or storing high value vehicles and perfect for protecting vehicles from the weather, ideal for motor sport enthusiasts, classic car owners and small racing teams. It can also be used as a covered trailer for many other uses.
We have just added one to our hire fleet and it has proved extremely popular already. For further information about hire please see our Transporta enclosed trailer hire page
If you wish a quote to purchase one please call our sales department on 01772 600395.
All models have a sturdy galvanised steel framework, with the tiltbed version featuring a manual hydraulic tilting drawbar which suits most vehicles. An optional pair of ramp skid extenders are available for vehicles which may have a low ground clearance.
An optional awning which is mounted onto the side of the trailer provides shelter from rainfall, wind as well as sunlight, and gives an added protected work area.
An electrical winch is available and the sliding bracket means the whole assembly can move from side to side to allow for the varied position of the towing eye on a vehicle. There is an optional workbench which provides a fully functional working area above a large storage cabinet made from lightweight material. An optional tyre rack can hold a set of differently sized wheels. There are 2 large side doors which provide access to the vehicle for restraining purpose and 2 small hatches on both the left and right sides to give easy access to the front storage area and the vehicle.
LED spotlights are down both sides providing both practical and ambient lighting to the interior of the trailer and optional floor strip lights provide low level lighting. Side track restraints are fitted as standard with multiple holes every 60mm in order to give lots of lashing points. The sliding wheel chocks are adjustable depending on the vehicle, ensuring stability and optimal weight distribution for towing. There are also heavy duty soft link adjustable wheel straps, however these will not cause damage to any alloy wheels.
There are lots accessories or other features available to meet any requirements you may have so you can create your own bespoke covered trailer.
View/Download the Ifor Williams Transporta Enclosed Car Trailer Brochure and the Ifor Williams Transporta Enclosed Car Trailer Price List for further information