End Of An 18yr Era At Barlow Trailers For David MacPheat
David came to work at Barlows from leaving school at 16 in 2002 when Barlows Trailers took him under their wing and helped mould him into the person he is today. After 18 years of service Dave and his family have made the decision to change their whole lifestyle whilst they are still young enough and are moving to Dumfries & Galloway to renovate a small holding and are hoping to set up a new business offering accomodation to people with horses & dogs, also provide a shooting lodge for the many shooting syndicates in the area.
Dave was well liked and respected by customers and colleagues alike and he will be sorely missed. The Barlow family and staff wish them every success in their new adventure. Dave has many memories and made friends with lots of customers & staff over the years and is sad to say goodbye to everyone.

On his last day John Barlow gave a speech and presented Dave with a picture of Barlow Trailers with a plaque showing his name and dates at Barlows, as a rememberance of his time here. He was also presented with a hamper full of Scottish goodies.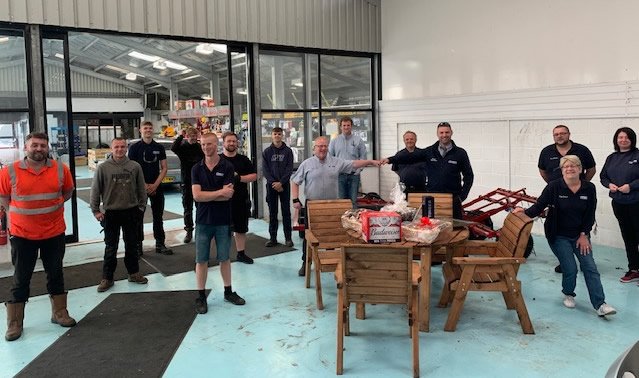 Dave and family wish to thank all his past customers and colleagues for all the well wishes they have received