StockMaster
Ifor Williams 
New
Stockmaster Trailers - Great Prices
Finance Options & 

Part Ex Available

A 24' x 8' tractor drawn livestock trailer which has been produced to ensure the trailer is as flexible as possible by creating an aluminium demountable container option which then provides both a livestock trailer and a flatbed in one. By adding hay raves as an accessory the trailer can be used during harvest. It has the ability to follow and turn well on winding roads which is a major factor when towing.

The StockMaster has a bed 24' x 8' on a galvanised chassis and is available in 4 basic models:
24' Flatbed with a resin faced ply floor
24' Flatbed with a livestock floor
24' Flatbed + Container
24' Flatbed + Container + Sheep decks
Why choose a StockMaster
The Facts:
Design gross trailer weight of 21 tonnes, actual GTW's depend on current legislation and tyre options chosen.
Two Variants: Farm with basic 20mph hydraulic brakes and High Speed.
Heavy duty (approved at 13 tonne) commercial S-cam braked axles fitted to all models and variants.
lfor Williams load-sharing 4-spring suspension.
Excellent axle load equalization delivering the best possible braking adhesion even in off-road operation.
Wear protection plates prevent springs rubbing galvanised chassis.
lfor Williams 50mm ring eye coupling manufactured from a very tough and wear resistant grade of iron can be unbolted and replaced if required.
Excellent tracking — the trailer 'follows' well. Farmers love to tow this trailer.
Closable bottom side vents.
Closable bottom front vents (on deck trailers).
One-piece aluminium treadplate floor no welds to crack.
2 large cross-divisions (converts to 4 small when sheep decks in use).
Cross-divisions can be opened from the outside.
Fully legal 20 degree ramp angle with no step-down at top.
4 sump tanks as standard on all Cattle and Deck models.
Powered Sheep Deck — from tractor hydraulics with unique sequential auto-latch.
Fully O4-legal rear under-run bar.
LED lights as standard
Extensively proven on test-track and farm.
Demount leg option.
Hay raive option
Sprung drawbar option.
Spare wheel option.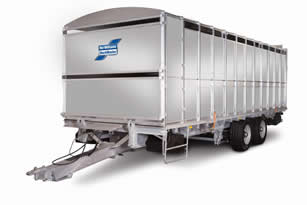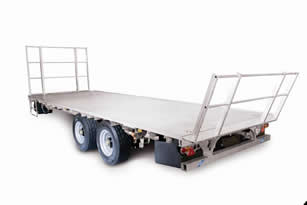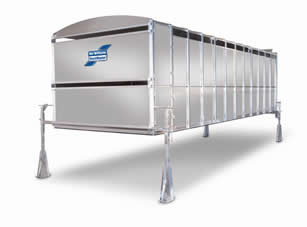 Options:
Hay Raves/Ladder
Very easy one-man fitting and removal. Ladders weigh approx. 40kg which easily hook and click into the bracket on the front and rear
Demount System
This kit allows easy container removal using your tractor and forks at home, for flat trailer work and greatly inproved utilization
Non-LED Lights
Interchangeable non-LED lights are available
Sprung Drawbar Suspension
Usining laminated rubber/metal springs which provide springing and damping. Can be converted from fixed to sprung at point of sale. This dampens noise and absorbs vibrations ineviatably created by travelling
Spare Wheel
Stows in a cradle between the chassis beams at the rear witha winch to pull the wheel in and lift/lower the cradle.
For more information on sizes, specifications or prices click on the links below:
Ifor Williams StockMaster Brochure
Please call us on 01772 600395 to discuss any options required and any special offers available
---
---
There are no products to list in this category.