Ifor Williams P6e Tailboard 500kg 145/10 Tyres
6' 6" Long x 4" Wide, Gross Weight 500kg, 145/80 B10 Tyres
Please call us on 01772 600395 to discuss any optional extras required and for any special offers available.
Larger, stronger and tougher than trailers typically sold at your local DIY or car parts superstore, the P6e, P7e and P8e are small trailers with big hearts. On the road they can be towed by a family car1, off road they can even be towed by a quad bike2 With ramp or tailboard versions, canopy and livestock options, gross weights of 500kg or 750kg on most models and a range of optional accessories, the P6e, P7e and P8e cater for most domestic, light commercial and general
farmyard duties.
The axle, drawbar and body panels of these trailers are constructed from hot-dipped galvanised steel. The floor is 18mm thick high density plywood with a tough, water-proof resin coating on both sides. A factory fitted option of 2mm aluminium treadplate overlay is available. The loading ramp is panelled in 2mm thick slip resistant aluminium tread plate.
The P8e offers sufficient space to conveniently carry most standard building sheets/ plasterboard (typical size of 2.4m x 1.2m). In addition it carries most 'side by side' ATVs and many lawnmowers.
Optional extras for all three models include rear prop stands for additional stability when loading, jockey wheel, lashing points for securing loads, aluminium tread plate floor covering, ladder rack and welded mesh side panels, invaluable when carrying large bulky objects such as hedge cuttings, waste paper and fire-wood.
Standard features include:
Spare Wheel and carrier
Lockable* 50mm ball coupling with soft grab handles
Adjustable front prop stand
Rope hooks Impact resistant plastic mudguards
Strong steel framed ramp or tailboard
Wheelbrace (also fits mesh side clamps)
1Refer to towing vehicle manufacturers handbook for maximum unbraked towing limit.
2 If fitted with optional Quad Bike drawbar.
*Requires padlock
---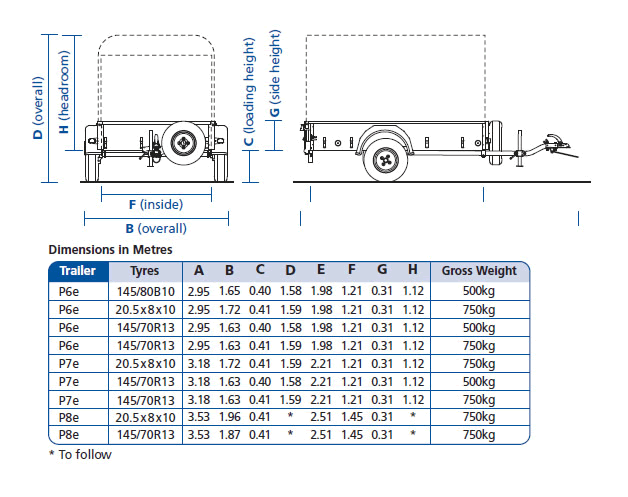 Note
The P6e and P7e are unbraked trailers and as such should be used with regard to the Road Vehicles (Construction & Use) regulations 1986, which state that the towing vehicle must have a kerbside weight of at least twice the gross weight of the trailer. Therefore, for example, the maximum gross weight of 750kg will only apply if the kerbside weight of your towing vehicle as stated in the manufacturer's handbook is greater than 1500kg. If the kerbside weight is less than this figure, the maximum gross weight of the trailer must be reduced accordingly. The vehicle manufacturer may further restrict this figure by stating a maximum weight of unbraked trailer which may be towed, this must also be taken into account
Weight
Unladen Weight
162kg
Gross Weight
500kg
Axles
Axle Type
Single
Wheel & Tyres
Size
145/80 B10
Dimensions
Internal Length
1.98m
Internal Width
1.21m
Overall Length
2.95m
Overall Width
1.65m
Ifor Williams P6e Tailboard 500kg 145/10 Tyres
---