Equi-Trek Envoy Elite – Available now! 
Metallic Peugeot Azzuro Blue and Orkney Grey
The Envoy is built on a Euro 6 DAF LF 45 chassis which comes with a full manufacturers unlimited mileage warranty. This horsebox is fully reliable and provides the economy and performance that any professional competitor expects. It's design has the professional in mind providing comfort and safety when transporting horses.
The living area is spacious and comfortable; there is ample seating for six people which converts into a large double bed, whilst the over cab area provides sleeping for a further two people. The fitted kitchen comes complete with a gas hob and sink with matching smoked glass lids. The large separate bathroom area can be fitted with a shower cubicle, electric flushing toilet, wash basin and vanity unit if required. 

The Envoy has large under floor storage lockers, spacious tack lockers for up to six saddles, plus a separate groom's locker to safely store all your equipment. The Envoy also has a huge carrying capacity in excess of 5,000kg. 

The attractively designed body of the Envoy incorporates a fully tilting cab for ease of maintenance. 

Fitted Extras: 

180 BHP 
Automatic Gearbox 
Air Conditioning in Cab 
Rear Air Suspension 
Black Leather Cab Seats with Cream Leather Inserts 
Black Leather Upholstery with Cream Leather Inserts 
High Gloss Interior in Tiepolo PA & Cream 
Extra Water Capacity 350L 
Fridge 189L 
32" TV Upgrade 
Flush Glazed Windows 
Underskirt Locker x 2 
Large Saddle Locker x 2 
4 Horse Stall Layout 
Warranty: 2 Years Equi-Trek and 1 Year DAF



Equi-Trek Full Brochure Downloads: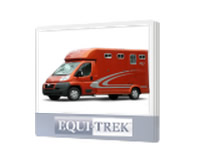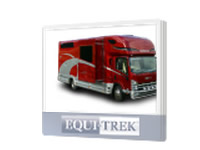 Small Horsebox Brochure     Large Horsebox Brochure
  Small Horsebox Price List     Large Horsebox Price List
For more detailed information about Equi-Trek horseboxes please visit our new website www.equitrekleyland.co.uk
Approximate Weight & Dimensions
Front Axle
4480kg
Rear Axle
8480kg
Unladen Weight
6750kg
Gross Weight
12,000kg
Towing Capacity
3500kg
Equi-Trek Envoy Elite 12 Tonne Horsebox
Supplier: Equi-Trek
Product Code: Equi-Trek Envoy Elite MW4026
Availability: SOLD
---
Tags: horseboxes